W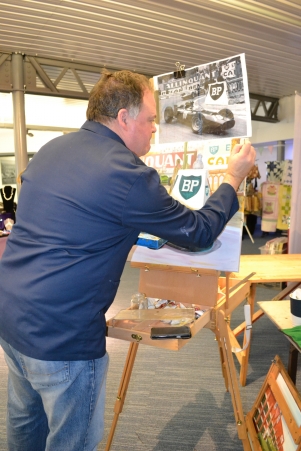 hy not Invite Neil to demonstrate at your event ?
I have exhibited my work at a great variety of events ranging from craft fairs, national motorsport events, to fine arts galleries. These can be outside festival events, child friendly interactive events or more refined indoor venues.
Given the opportunity I will always demonstrate my painting skills to the passing audience, sharing the creative process with them and explaining the stage in the work that we are and the next steps that we will be taking. Demonstrating the techniques employed in creating the variety of textures and surfaces needed to accurately portray a motorsport subject.
It always great to invite people to pick up a brush and add their personal brush strokes to the work being completed , and where children are present I can prepare copies of some of my work in line sketch form that they can colour in and complete there and then.
For more experienced art groups I can come along with a number of my works and take your group through the whole process from sketching to completion. I use a number of pre-prepared works to illustrate each stage introducing the groups to tools and techniques to improve their portrayal of movement and speed within their pictures. Then sharing resource material so they can creat their own works.
If you are interested, follow the links on the contact me page and lets see what we can arrange.